Published online by Cambridge University Press: 24 June 2014
Evidence
The Meditation Research Program (MRP) is specifically interested in scientific evaluation of the mental silence phenomenon. Our findings so far suggest that it is associated with a detectable specific effect.
For example, a rigorous RC of sahaja meditation (a technique typified by the experience of mental silence) for occupational stress showed significantly superior effects on measures of work-related stress and depressive feelings (7) when compared to an active control.
Another RCT showed specific effects on asthma-related parameters (8). Other trials conducted elsewhere also show promising outcomes. In both RCFs, mental silence appears to generate an improvement in psychological parameters and aspects of quality of life that is clinically and statistically greater than that seen with more conventional stress management. There is also some evidence that aspects of physical disease processes may also be significantly impacted. This is the subject of ongoing research.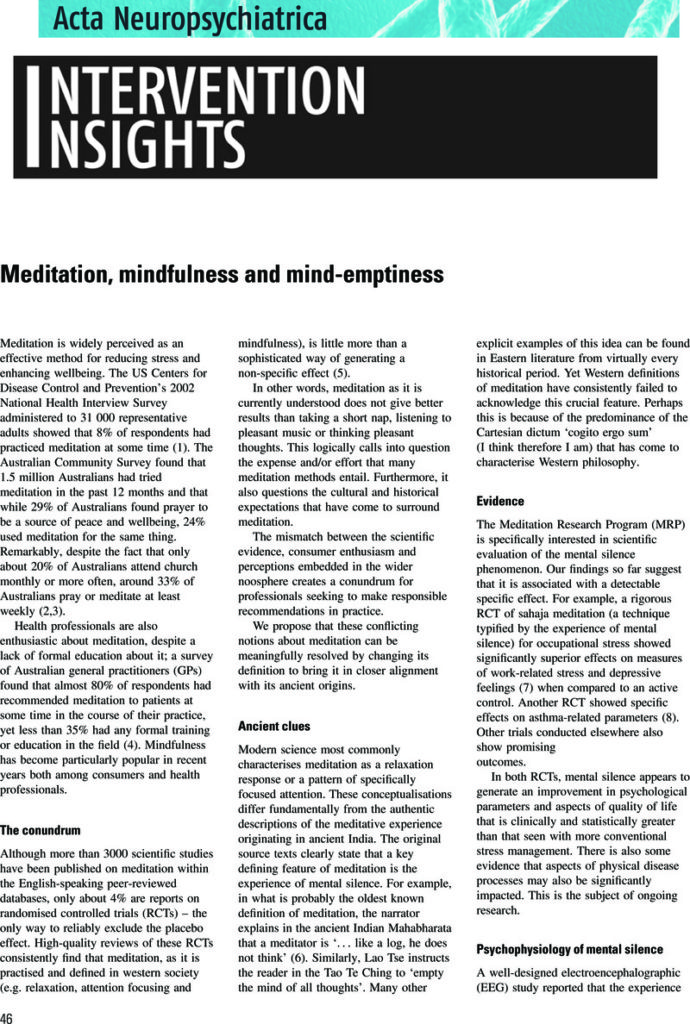 Source – https://www.cambridge.org/core/journals/acta-neuropsychiatrica/article/meditation-mindfulness-and-mindemptiness/CDA506C3D0FBB58C5B2407CB982CC6A9#fndtn-information
Corresponding author
Dr Ramesh Manocha, Senior Lecturer, Department of Psychiatry, Northern Clinical School, Royal North Shore Hospital, University of Sydney, Sydney, Australia. Tel: +612 9926 7787 Fax: +612 9926 7730 E-mail: R.Manocha@healthed.com.au