The fourth chakra, the chakra of the heart, is the place where resides our Spirit, our true Self, which is eternally pure and unaffected by anything. It shines like a hidden diamond within us, witnessing all our actions.It is from our heart that the compassion and love manifests, and also the heart chakra is the one that gives us the sense of responsibility and pure behaviour towards others. The heart chakra also gives us complete security and confidence.
Location. The Anahat chakra is located within your spinal column. It may be found at the level of the center of your chest, behind your sternum bone. Associated with your cardiac plexus, the vibrations of the Anahat chakra may be felt in your little fingers.
Qualities. The Anahat chakra is represented by the color red. It is aligned with the essential element of air.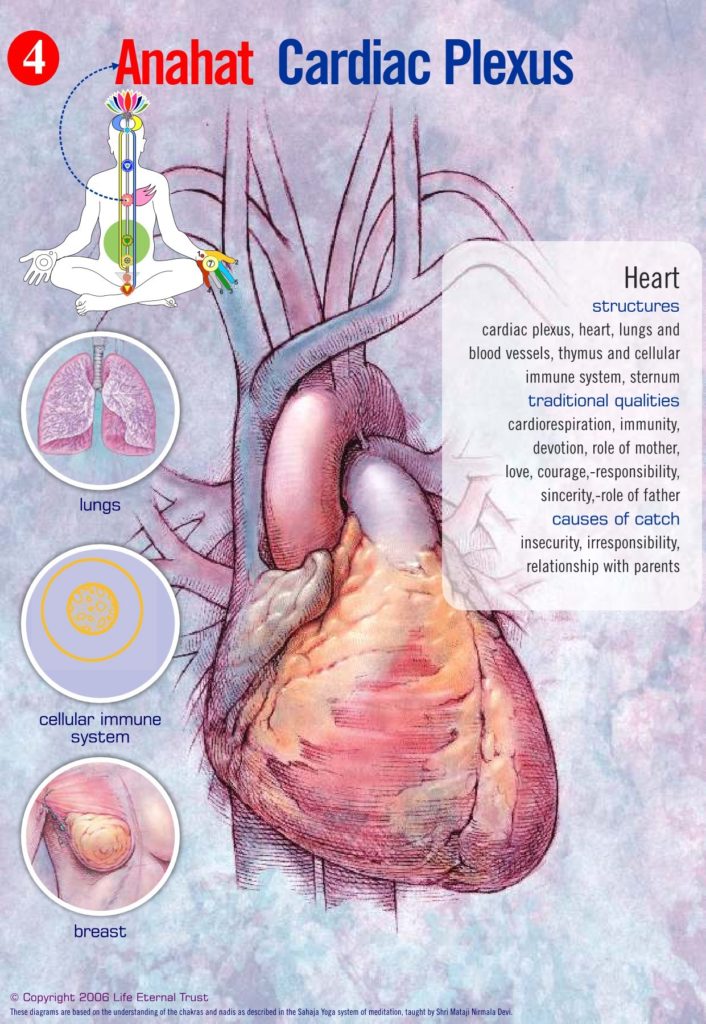 Anahat chakra qualities include:
• Unconditional love
• Unconditional compassion
• Gracious behavior
• Truth
• Joy
• Confidence
• Absence of fear and sense of security in life
• Positive paternal and maternal relationships
The fundamental quality of the Anahat chakra is unconditional love. It is through energizing the heart chakra that you are able to become confident, self-assured, morally responsible and emotionally well balanced.
When you open yourself to the qualities of the Anahat chakra, you will experience the pure joy of existence. You also discover your purpose and place in the world.